MY CHARACTERS~!
THE DIRTBAGZ
(& co)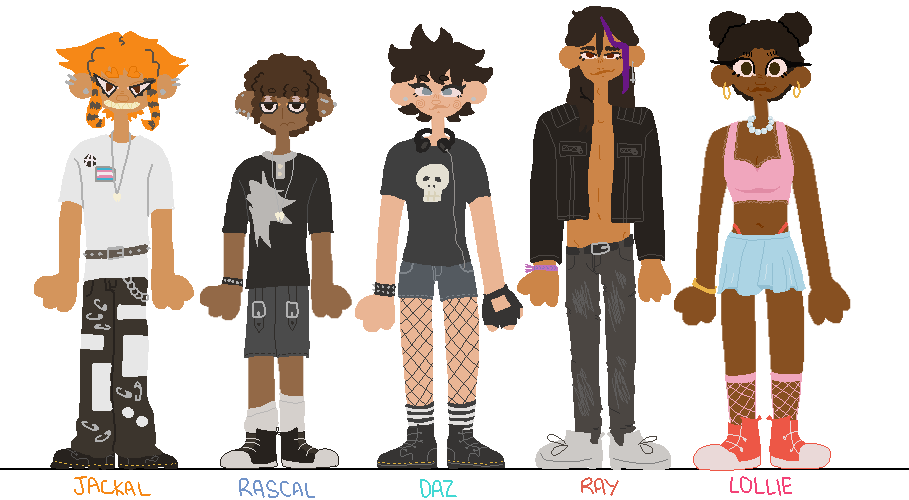 the dirtbagz are my main group of ocs!
it includes JACKAL, RASCAL, DAZ, and RAY!! they are all besties, but JACKAL and RASCAL have known each other the longest and are the closest. LOLLIE is a friend of the group- she tags along on their adventures sometimes.
JACKAL: he's my main oc!! he's like half sona half oc, he's a piece of me that i fleshed out and created into a new Guy.
he/him pronouns
transmasculine
seventeen years old
5'10" tall
twink build
the troublemaker and leader of the dirtbagz. he sucks, in a lovable way. weirdly likeable for such an asshole.
RASCAL: j-man's second in command. been jackal's best friend since childhood because they start shit together
he/they pronouns
transmasculine nonbinary
sixteen years old
5'6" tall
twink +some belly and thighs
co-founder of the dirtbagz. he sits back and comments on jackal's shenanigans, as if he wasn't the one to propose the idea in the first place.
DAZ: stereotypical cartoon teenager. always got headphones on, smokes, makes sly comments, the whole package. named daisy, but daz is cooler so they're daz to anyone they care to keep around
they/she/he pronouns, they/she more often
genderfluid
seventeen years old
5'9" tall
soft pear-shaped build
the newest member of the dirtbagz. they're a classic loner- she usually keeps to herself with her headphones on, but she can hear you, and you'll know that when they say the funniest thing youve ever heard after half an hour of silence from them
RAY: COOL GUY. a chill stoner, unless you try to start shit with him or his friends, in which case you shall soon call the hospital your home
he/him pronouns
trans man, fully transitioned
nineteen years old
6'2" tall
toned build
the most mature of the dirtbagz. he lets them have fun, but knows how to cool things down when there's a risk of real trouble for the gang.
not a dirtbag, but...
LOLLIE: cute girl. softspoken, but when the dirtbagz are around, she always feels heard and respected
she/they pronouns
demigirl, cool with being called a girl/woman/etc. as long as u know it's only partially true
seventeen years old
5'11" tall
soft hourglass build
dirtbag associate (sometimes honorary dirtbag). they're really into y2k fashion and 'feminine' clothes. from a stranger's pov, she's a typical cute girl, but once you get to know her, she's the strongest yet kindest person you'll ever meet